Emma Daniel McGuire


Born in 1977, Emma McGuire lives and works in London and New York. She graduated from the Royal College of Art in 2005, and has exhibited extensively in solo shows: Georges Bergès Gallery (2016) Chatsworth House, Derbyshire (July 2013), Giorgio Bratto Showroom, Milan, Italy (2013) and The Royal Acadamy Summer Exhibition (June 21013). Group shows include Warrior, Blackhall Studios, London (2012) and The Royal College of Art Print show at the Royal Academy, London (2005).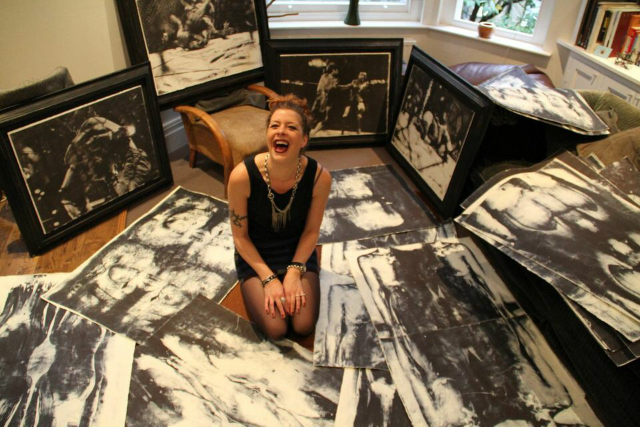 Working primarily with printmaking and photography, my body of work examines social and philosophical systems of identity, in particular those derived from the transition of Classicism into Contemporary thought. Underlying each image is the subject matters individual narrative which has undergone deliberate alterations and incorporated with tactile materials, such as clay, wood and metal. The visual manipulations and distortions seek to complicate our understanding of reality and the perceived subject matter, leading us to the impossibility of reaching any meaningful conclusion except our own perceived reading of the image. The essence of McGuire's work is in the tension generated between the photographed subject and the spectator, with an intimacy created by blurred forms that facilitates a voyeuristic experience.

McGuire examines her subjects through both a contemporary and classical conceptualization of the human form. Working in a variety of media, including lithographs, photography, sculpture and film, her practice is wrought with a visceral dynamism, influenced by the work of Francis Bacon and Robert Mapplethorpe. McGuire's artistic inquiry is concerned with the grey areas of human nature: imperfections, vulnerabilities and contradictions.




EDUCATION

2003 - 2005 MA Fine Art Printmaking, Royal College of Art, London, UK

2000 - 2003 BA Fine Art (First Class Honors), University of East London, London, UK

1999 - 2000 Arts Foundation, Tower Hamlets College, London, UK




ACADEMIC POSTS


2021 - present, Course Leader BA Fine Art, University of East London, London, UK

2020 Outreach Champion for Art and Design UEL, London, UK

2017 - 2021 : Program Leader Foundation Art and Design, University of East London, London, UK

2016 - 2022 Senior Lecturer, MA Fine Art, University of East London, London, UK

2015 - present: Senior Lecturer, Foundation Specializing in Fine Art, Printmaking, Photography and Fashion, University of East London, London, UK




2013 – 2015: Senior Lecturer: Fine Art Printmaking and Seminar Series, University of East London, London, UK

2013 – present: External Examiner Photography BA, University of Greenwich/North West Kent, UK

2010 – 2012: Sabbatical, New York, NY

2006 – 2010: Senior Photography Lecturer, University of East London, London, UK
SOLO EXHIBITIONS


2023 Female Warrior Army (forthcoming)

2023 Digital XXXX Terrain (NYC) (forthcoming)

2018 'Female Warrior Army' London Eastbury Manor House, London, UK

2017 World Fighting championships, Paris, France

2016 'Molly McGuire' London Fields, London, UK

2016 'In Motion' George Bergés Gallery, New York City, New York

2018 Collaboration with Renzo Gracie (DTBC) Abu Dhabi

2013 Galerie Sardac Viewing room, London, UK

2013/14 Galerie Sardac, Lectoure, France

2013 Giorgio Bratto Studio, Milan, Italy

2013 Chatsworth House, XXXX, Derbyshire, UK

2012 Warrior, Blackall Studios, London, UK

2008 The Mayfair, Warren St Studio, London, UK

2005 Angel-Angela, Royal College of Art, London, UK

2004 The Emperor's New Clothes, Indo, London, UK




GROUP EXHIBITIONS


2021 "Conscious Isolation", 50/50 Exhibition, London, UK

2020 "Way out East", Daryl Brown Art, London, UK

2020 Summer Exhibition Royal Academy of Art, London, UK

2020 'Women of Shoreditch' Chop Chop, London, UK

2020 'Winter Group Show' Georges Berges Gallery, New York City, New York

2019 'Georges Berges Berlin Opening Exhibition', Berlin, Germany

2019 'Way Out East' Daryl Brown Art, London, UK

2018 ,Esc' Escape Sculpture Collective, Eastbury Manor House

2018 'Curated Contemporary' Exhibition and Auction, Southey's New York

2018 'Face Value 2" London Jealous Gallery, London, UK

2018 'GoodBye, Good Buy' London Hoxton Arches Gallery, London, UK

2017 'Antepenultimate' Trinity Bouy Wharf, London, UK

2016 'Black & White' Molly McGuire Studio, London, UK

2016 Summer Fete, Georges Berges Gallery, New York City, New York

2016 'Gender Equality 50/50 2030', Auction Unites Nations, New York City, New York

2016 Spring Fete Georges Berges Gallery, New York City, New York

2016 Urban Experience, Georges Berges Gallery, New York City, New York

2015 'Winter Fete' Georges Berges Gallery, New York City, New York

2015 'The Nude Male' AVA UEL, London, UK

2015 'Remember' St Johns Bethnal Green, London, UK

2015 UEL Art Auction, Cock and Bull Gallery, London, UK

2015 'River' AVA UEL, London, UK

2013 The Summer Exhibition, Royal Academy of Art, London, UK

2012 Warrior, Blackhall Studios, London, UK

2007 Warren Street Studio, London, UK

2005 2nd Year Itch, Café Gallery, London, UK

2004 We Are All A Bit Different, Chambers Gallery, London, UK




RESIDENCIES

2018 Female Warrior Army, Eastbury Manor House, London, UK

2013 Chatsworth House, Derbyshire, UK

2013 Roger Gracie Academy, London, UK

2013 Nottingham POW service, Nottingham, UK

2011 Manhattan Graphics Centre, New York City, New York

2010/11 Renzo Gracie Academy, New York City, New York

2010 Manhattan Graphics Center, New York City, New York

2003 Repton Boxing Club, London, UK

2002 Wentworth Nursery School, London, UK




REVIEWS


"Three Questions with Emma McGuire", Oh Comely Magazine, Oct 2016

"Emma McGuire", aRt Magazine, October 2015

"Georges Berges Presents Emma McGuire 'In Motion'", Whitewall Magazine, May 2016

"Artist to Watch: Emma McGuire", Fashion Week Daily, May 2016

"Chatsworth to stage a cage fighting photography exhibition", BBC News, June 2013

"Arcadia of a Moderniser", Financial Times, June 2013